The Encounter to work on achieving more sustainable, inclusive and feminist digital platforms
The Sharing Cities Encounter 2019 congregated 30 city representatives from around the world and 150 actors from the international sharing ecosystem to make a step forward in addressing the challenges and the opportunities of digital platforms and strengthen their sharing potential. Actors like business platforms, civil society, networks, experts, activists, and research centers renewed their willingness to collaborate and define together an Action Plan for 2020. Located in the Sharing Cities Stand Lab, the Encounter created an innovative 3-day laboratory for policy co-creation in the middle of the Smart City Expo World Congress (SCEWC). Key topics were: The Future of Work, Inclusion and Gender Equality, Data Policies and Commons, and Environmental Sustainability. 
Which are Sharing Cities Action's objectives?
The project originates in the launch of the Declaration of Common Principles and Commitments for Sharing Cities in 2018 and the creation of the Sharing Cities Action Task Force. The Task Force aims at catalyzing courageous moving forward actions in the following areas: supporting city sovereignty, data commons, sharing regulatory efforts and empowering cities in front of disruptive platforms; the promotion of sustainable and inclusive platforms to achieve cities' and global goals, and the preservation of citizen and human rights; to incorporate sharing dynamics in urban planning and foster citizen engagement among others. To support these follow-up actions, the Barcelona City Hall, along with the Open University of Catalunya agreed on extending the Sharing Cities Action Task Force program.
The city of Seoul will take over from Barcelona, New York City and Amsterdam, and will support the program of collaborations between cities, as well as, to organize the next Sharing Cities Summit 2020.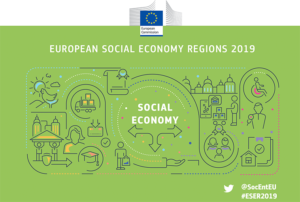 The Sharing Cities Stand Lab has been chosen to form part of ESER 2019 (European Social Economy Regions), sponsored by the European Commission – DG GROW.